The MediaWorks program is an innovative educational experience for 9th grade English students at Schenectady High School. Students are engrossed in an interactive learning experience that combines the skills required under the Common Core Curriculum, with hands-on, media-based projects. This fully integrated program offers students a chance to explore alternative learning strategies using technology as a foundation.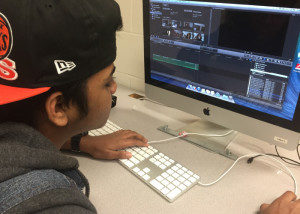 Each concept meticulously caters to not only the Core standards but to the unit lessons as well, thus ensuring student achievement.
As part of their MediaWorks course, students work alone or in small groups to create compelling media projects such as on-camera interviews, digital storyboarding (picture cartoon mockups of a story), literary element vines, television news segments, and book trailers. Each project is comprised of a writing and/or research assignment, a media planning phase, a production period, and a presentation of final work.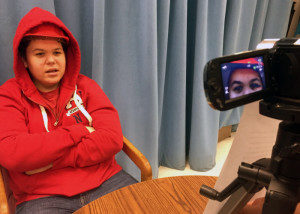 The media planning process establishes the infrastructure for the project. This is where students learn how to create a script, storyboard, and shot list sheet. They scout locations, track down props and cast their characters. These planning pieces are the building blocks for later production and are essential to the success of the final product.
The production stage introduces students to new technologies and digital programs. They get hands-on experience with video cameras and video editing software, as well as programs like Edmodo and StoryboardThat. These tools
are used to get students to think outside-the-box as they combine their Common Core skills with their creative flair.
As an alternative learning experience, MediaWorks also provides students with a glimpse at various occupations in the media field. As the year progresses, everyone has a chance to experience the role of writer, videographer, director, assistant director, video editor, newscaster, and actor.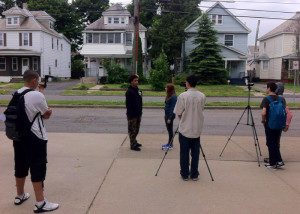 We also offer a unique opportunity to attend a MediaWorks Workshop & Festival, an all-day event, working with Albany High students to create a project from idea to final edited video, in just a few hours.