ROCK CAMP will be held at the newly renovated state-of-the-art Universal Preservation Hall – Saratoga's hottest new music venue.  This is a two week, full-day program where young musicians hone their skills, meet other young musicians, and learn from professional instructors as they:
Form a band with other young musicians
Write and arrange an original song
Learn cover versions of popular rock 'n' roll songs
Perform in concert at the UPH Grand Hall. 
Rock Camp immerses campers in live music and performance for two exciting weeks culminating in a Friday concert where they showcase their new music skills and original songs. This unique experience is packed with practical instruction, the opportunities for lasting friendships, and the chance to be in a performing band. If you are unsure whether ROCK CAMP is right for your child/student, please call us. We are happy to talk and help you decide what is best for your child/student.
Digital auditions now being accepted.
Rock Camp Audition Information
DECISIONS ON ROCK CAMP PLACEMENT: June 7, 2021
PERFORMANCE: Friday, July 16 at 4pm
TUITION: $600
Payment plans and scholarships are available for those who qualify.
Q: What do I prepare for the video audition?
A: Students should prepare two separate excerpts from the rock/pop genre of at least 16 bars. The two excerpts should be examples of contrasting styles and tempos within the history of rock and pop music.  Please submit your video as an MP4 file format, youtube or vimeo link. Any simple recording device, such as an iPhone is acceptable. We just want to be able to see and hear you clearly. You may play along with tracks but we must be able to distinguish you performing live from the prerecorded tracks.
Q: What if I want to audition with more than one instrument?
A: Awesome! Feel free to perform 16-32-bar excerpts for each instrument you want to audition with.
Q: If accepted, what kind of music am I expected to learn for the concert?
A: Music will be chosen from a wide variety of rock music from the 1960's to current day and determined depending on the groups interest and technical abilities.
Q: I'm not sure what to perform. Should it be memorized?
A: Your audition does not need to be memorized however we find that memorizing often adds to a level of comfort and confidence for you in the audition. Choose something you are familiar with and feel confident playing.
FAQ's
What instruments are played at Rock Camp? This year guitar, bass, drums, keyboard, and voice.
What is included in the cost of Rock Camp? The camp fee covers 10 days of professional instruction and break-out sessions with professional musicians.
Where is Rock Camp held? Rock Camp is held at Universal Preservation Hall in Saratoga Springs, NY. We have large-sized sectional rooms, as well as a state-of-the-art Performance Hall. Take a walk through UPH in advance! https://universalpreservationhall.org/take-a-360-tour-of-uph
Does my child need to read music to attend Rock Camp? While it is not required that your child read sheet music, campers should be able to follow a chord chart. We work with all levels of musicianship and will be sure to accommodate each camper.
What should campers bring to Rock Camp?
Drummers – Bring your sticks (and extras). One drumset will be provided. Drummers that wish to bring their own are encouraged.
Keyboard Players – A keyboard will be provided. Players who wish to bring their own are encouraged.
Guitar and Bass Players – Bring your instrument, strap, and guitar tuner.
Singers – Rock Camp will provide microphones and stands
Does my child need to bring lunch? Yes. Students should bring lunch each day, there will be a lunch break and opportunity for socially distanced lunch with friends.
Where do I drop off my child? Campers should enter the main Universal Preservation Hall entrance at 25 Washington St, Saratoga Springs, NY 12866. Members of the Proctors Collaborative and Rock Camp faculty will be there to greet campers and guide them into the building.
Who makes up the Rock Camp staff? Rock Camp is run by the School of the Performing Arts staff and professional instructors. Our instructors are top-level local musicians and educators, each with many years of experience performing and teaching.
In the event of an emergency, who do we contact? Prior to Rock Camp, you will receive a handbook with helpful information as well as a contact information sheet for site supervisors and Rock Camp faculty.
How do I register? Click on the Registration link above and complete all fields. Students should prepare two separate excerpts from the rock/pop genre of at least 16 bars. The two excerpts should be examples of contrasting styles and tempos within the history of rock and pop music. Please submit your video as an MP4 file format in the form. Any simple recording device, such as an iPhone is acceptable. We just want to be able to see and hear you clearly. You may play along with tracks but we must be able to distinguish you performing live from the prerecorded tracks.
COVID Safety Procedures
The School of Performing Arts is looking forward to welcoming students to summer camps. Please know that we will be using the utmost caution when it comes to protocols that ensure the safety of students and staff.
Protocols will include (but not be limited to): daily health screenings, temperature checks, mask wearing, appropriate social distancing to the activity and aggressive sanitization practices. Please see the protocols below which apply to each camp and location.
Safe Attendance:
Should you or someone in your family be diagnosed with COVID-19, you must follow all state regulations and self-quarantine for 14 days. Before returning to rehearsal, you must test negative for COVID-19 and be symptom-free. For the health and safety of you and your friends, it is important to read and follow all COVID-19 Safety Protocols and Procedures outlined in the guidelines as follows.
Life during a global pandemic is anything but predictable. Should COVID-19 restrictions result in the cancelation of more than 3 consecutive in-person rehearsals, you have the option to withdraw your enrollment and receive a pro-rated refund. If in-person programming becomes impossible, Proctors will shift all of its resources, energy and attention to virtual programming.
Air Circulation:
The state mandates MERV 11 air filters. All of our buildings have MERV 13 filters and the air handlers mix in 30% fresh air with every cycle, which can be adjusted as capacity and needs requires.
Entry:
Students will enter through the Arcade main doors at Proctors, the main doors at theREP and the main doors at UPH, depending on camp and location. There will be stations set up for students to complete a COVID screening questionnaire. Clean and used pen cups will be present on each table along with hand sanitizer.
Tables will be sanitized after use. Once the screening is complete, students will have their temperature taken. Temperatures are not recorded. If a student has a fever of 100.4 or higher, they will be seated away from other students. After several minutes, the student will have their temperature taken again. If they are still registering a temperature, they will be isolated and a parent will be called for pick up. Any student exhibiting COVID-19 symptoms, either upon arrival, or at any point during the program, will be sent home, and will need to be symptom free and test negative for the virus before returning. The School of Performing Arts reserves the right to send students or staff members home should they exhibit any of the symptoms below.
Parents should not send students to camp if they are experiencing any of the following:
• Fever or chills
• Cough
• Shortness of breath or difficulty breathing
• Fatigue
• Muscle or body aches
• Headache
• New loss of taste or smell
• Sore throat
• Congestion or runny nose
• Nausea or vomiting
• Diarrhea
• Any other signs of illness
Students will line up in designated areas for entry. There are demarcations on the floor to ensure students remain six feet apart. Students will keep all personal belongings with them.
Rehearsal:
Once inside, all staging, rehearsals and choreography will include safe social distancing protocols. Masks or face shields will be maintained at all times including during performances. All staff members and faculty will be educated on the protocols and will ensure they are being followed.
Breaks:
Six-foot tables with chairs on each end will be set six feet apart. Removal of masks will be limited to eating or drinking. Tables will be sanitized between uses. A single use restroom will be available for student use with a sanitization table outside of the restroom that includes wipes and hand sanitizer.
Visitors:
There will be no visitors allowed on the premises. If a student needs to be released for a doctor appointment, please contact the camp director for pick up procedure.
Attendance Policy
Due to the design of this camp, full attendance is required throughout each week. In the event that you are no longer able to participate, please submit a notice of your cancellation to Grace Janiszewski. Written notice of cancellation must be received two weeks prior to the first date of your camp or class in order for a refund to be issued. A 20% processing fee will be deducted from refunds. If a cancellation is submitted less than two weeks prior to the camp or class start date, a refund will be issued if we are able to move a waitlisted student into the vacated spot. Otherwise, a credit will be issued, which can be applied to future programs.
Faculty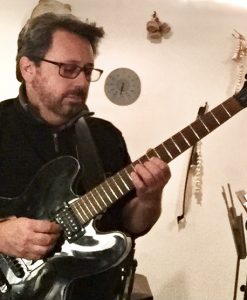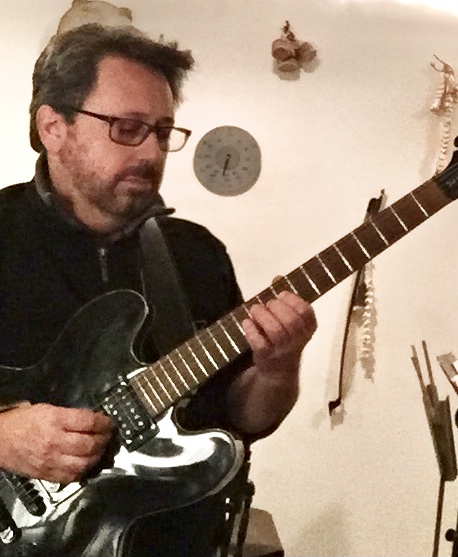 Composer / Guitarist, Crispin Catricala received a B.A. in Music Composition from SUNY at New Paltz (82) and a M.S. in Music Education from the College of Saint Rose (93). He began studying guitar at age 13 and performing at age 17 with numerous groups. Crispin co-founded the regional celebrated World Beat ensemble Pangaea (92-07). The 15-year-old ensemble, known for mixing equal parts Caribbean Funk, Afro/Cuban and Jazz Rock into a high- energy performance has shared the stage with such musical artists such as Hugh Masakela and Richie Havens. The band released a self -titled recording in 1998, which contains many of Crispin's originally composed songs. Crispin also released a duet recording of mostly original compositions with mallet vibraphonist Dave Casner entitled "Geo Beat Duo" (2012). In addition Crispin taught at Ballston Spa Middle School as music instructor and jazz band director for over 25 years, where he often mentored and encouraged his students to form bands of their own. Crispin continues to teach privately in his home studio. He is currently performing solo as well with several projects including Geo Beat, The Stone House Trio and The Swing Docs.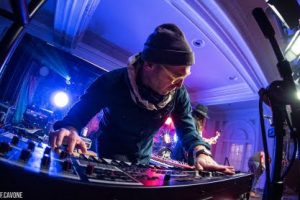 Dustin DeLuke is a studio and touring keyboardist as well as a producer, composer and recording engineer. He has toured internationally with the band Wild Adriatic playing venues such as Proctors Theatre, The Palace Theatre, Saratoga Performing Arts Center, The BB&T Pavillion, The Gramercy Theatre, The Egg, the State Theatre in Portland, ME and Daryl's House (owned by Daryl Hall of Hall & Oates). Some bands Dustin has shared the stage with are Lynyrd Skynyrd, Hank Williams Jr., The Marcus King Band, Kenny Wayne Shepherd, Barenaked Ladies, Sister Hazel, Rustic Overtones, Twiddle, Andy Franso & The UN and SmashMouth. Dustin has also performed with, recorded with or is a contributing member of regional acts MOTORBIKE, Sly Fox and The Hustlers, The Sea The Sea, Freddi Shehadi, Beard and Glasses, JB!, Moriah Formica and Let's Be Leonard. When Dustin is not touring or in the studio he can be found playng local jazz gigs or teaching private piano, theory and music production lessons. Dustin holds degrees from Berklee College of Music (magna cum laude BS, Music Production & Engineering) and Plymouth State University (BA, Fine Arts Technology).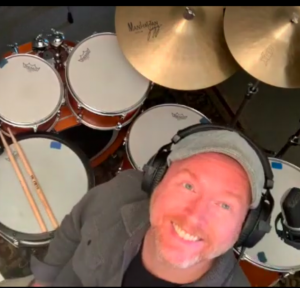 Drummer/Percussionist, Andrew Hearn grew up playing in bands with friends around central New York.  He began playing out professionally while in college at the Crane School of Music.  After graduating, he played shows for Music Theater North (summer stock theater in Potsdam) which led to two 3 month tours of Europe.  After returning home, Andrew started his teaching career at South Colonie Central Schools and has been an active member of the capital region music scene performing and/or recording with various rock, pop, jazz, theater and blues groups.  He has played local concerts such as Albany's Alive at Five, Concerts at the Plaza Series, Jazz on Jay St, Lark Fest, Captain JP Blues Cruise and more. Andrew's drumming has been aired on local radio stations: 102.7 WEQX, 103.9, 106.5 WPYX, as well as XM Sirius Satellite Radio and local TV (Time Warner's The Sounding Board).  Recent recording credits include the Joe Finn Trio Plus One "Generational Dynamics" and Tas Cru's  "Memphis Song" and "Drive On".  Tas Cru's three most recent recordings (with Andrew on drums) all have won a Syracuse Area Music Award for best blues recording.  Mr. Hearn has an enthusiasm for the evolution of drum-set playing in all styles of music and he's looking forward to rocking with you!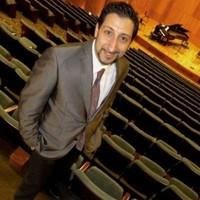 Salvatore Prizio – Guitar Instructor – A 24-year veteran of the music industry, Sal has seen his career go from performing on stage as part of a touring rock band, to working at Atlantic Records in New York City, and now programming over 580 concerts per year for seven venues throughout the Capital District. The one aspect of this business that keeps him throughout all these years, and watching the audience enjoyment of a good performance. "When I am in the venue, the artist is on stage and I see patrons singing every word of an artist's song, I know we have all done what we set out to do which is provide the audience a sense of community, shared experience, and enjoyment. To me there is nothing professionally that beats that experience."
During the pandemic, Sal and the team at Proctors have pivoted from live in-person performances to televised and streaming concerts for the community. When he isn't behind the camera shooting concerts, Sal can be found teaching guitar to 20 students a week. "In some ways, it has come full circle for me with teaching. I can remember the struggle of learning those first chords at the age of twelve and decoding my favorite songs on the guitar. Now that I have that experience, I enjoy passing on what I have learned to the next generation of guitar players throughout the area."