Professional theatre for young audiences where we bring the shows to you.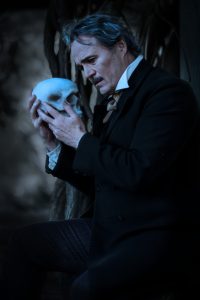 "Pure Poe: Three Tales of the Macabre"
by Edgar Allan Poe
Adapted by Maggie Mancinelli-Cahill
Directed by Margaret E. Hall
Tour dates: October 11 – November 5, 2022
Cost: $1200
Grade level: Recommended grades 6+
One of Capital Rep's most beloved On-The-Go! touring shows, "Pure Poe,"  is back! A production of lost loves, mad murders and a prosperous prince attempting to defy death and doom, Edgar Allan Poe's characters come to life and are told by the master storyteller himself. When the ghost of Edgar Allan Poe returns, he decides the time is ripe to recite his famous poem, "The Raven," and much-loved stories "The Tell-Tale Heart " and "The Masque of the Red Death." Wynn Harmon reprises his role as the famed poet in this tour that is sure to spook as well as delight.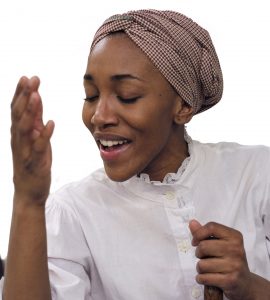 "Harriet Tells It Like It Is"
by Karen Jones Meadows
Directed by Margaret E. Hall
Associate Director/Dramaturg Susan Spain
Tour dates: February 27 – March 25, 2023
Cost: $1200
Grade level: Recommended grades 3-6
Travel back in time and journey north on the Underground Railroad, with Harriet Tubman in this special adaptation. Harriet shares her story of bravery, resilience, and triumph as she fights for her freedom and the freedom of countless other African American slaves. Harriet's account comes to life with live accompaniment from a professional African drummer. This narrative truly demonstrates the power of one individual to affect and inspire the lives of many.
Your stage, your schedule
On-The-Go! booking information
On-The-Go! Cost: Each production varies. Financial aid is available, you can also contact local BOCES for funding opportunities!
Reservations: To schedule a presentation,  email us at onthego@capitalrep.org!
Payment: A school purchase order or BOCES paperwork is required within one month of making any reservation. Final payment is due for all events by one month prior to the performance date.
Run time: 60 minutes which includes a post-show talkback.
Please check with BOCES for funding opportunities.
Some orders may be subject to a 10% deposit at the time of the request.
In the event of school cancellation, a notification to the Education Programs Manager is required as early as possible (prior to 6 a.m.) for us to notify the actors who may be traveling. We will make every effort to reschedule your performance within the tour schedule. TheREP also reserves the right to cancel a performance in the event of severe weather and dangerous travel conditions. The decision to cancel will be made as early as possible and will be communicated to the schools by the Education Programs Manager.
For more information, reservations, workshops, backstage tours, and other special requests, please email us at onthego@capitalrep.org
Our On-The-Go! School Tour is sponsored by:
Pictured: Lauren E. Banks as Harriet