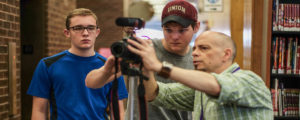 When: July 17 – 28, 2017
M-F 9:00 a.m. – 4:30 p.m.
Age Range: 15 – 18
Tuition: 2 Weeks for $500
Location: Fenimore Gallery
Experience: Intermediate to Advanced
This two-week intensive filmmaking program is great for young filmmakers hoping to learn new techniques and build upon a solid foundation. The program provides a practical foundation for filmmaking skills including lighting, camera composition, and editing. Students will take on full responsibility for their projects as they work in small collaborative settings to develop the script, storyboards, and then finally shoot the project. Also, learn about the various ways to distribute and promote their work both online and through various film festivals. At the end of the two weeks, students will take home a DVD copy of their group film completed during the session.
Reel Adventures – SOLD OUT!
When: July 31 – August 11, 2017
M-F 9:00 a.m. – 12:30 p.m.
Age Range: 10 – 14
Tuition: 2 Weeks for $400
Location: Fenimore Asset Management Gallery
Experience: Introductory
What is your story? Reel Adventures gives students the chance to bring their imaginations out from behind the lens and onto the big screen. The young filmmakers will receive hands-on experience in making their short films in a collaborative setting. By the end of the two-weeks, these young filmmakers will gain the experience on how to direct, act on the screen, produce, edit, shoot, and all the other behind-the-scenes magic that shapes a film from an original idea all the way to a blockbuster.