MediaWorks began during the 2016-17 school year at Ballston Spa High School, integrating video production and traditional filmmaking project based learning techniques into the 9th grade ELA curriculum. Currently, there are three 9th grade ELA courses integrating media arts and media literacy pedagogy designed by the Media Arts Teacher. Students enrolled in the MediaWorks' ELA classes engage in applying, analyzing, evaluating, and creating from their understanding of the academic content.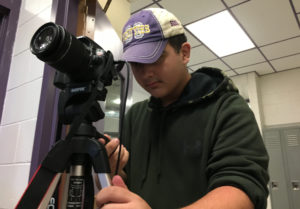 Developing media skills and disciplines in writing, pre-production, production, and post-production promotes students to exercise and develop their own skills in critical thinking, communication, creative problem solving, strategic planning, leadership, and innovation.
Throughout the school year, the students will be responsible for completing 9 media projects, which consist of 1 written project and 8 video projects. All video projects may consist of a written component, and/or documentation of pre-production work in the form of storyboards, shot lists, and production plans, in addition to the actual video project itself.
Project 1, is an introductory project to kick off the year called, the "I Am Poem Project." Students make a short video based on the I Am Poem they wrote in class to introduce themselves.
Project 2, is a camera exercise called "The Shoe Project." Students demonstrate their understanding of camera shots and camera coverage from a previous lesson and create a storyboard of a mundane life occurrence (ex. discovering and tying an untied shoe). In their production groups, students must shoot the different camera shots to capture the narrative of the scene they created and edit the scene in one hour.
Project 3, is the first unit project called, the "Literary Technique Project." Students need to demonstrate their understanding of literary techniques used in the short stories they read for class and interpret how to convey the same literary techniques to a narrative in a video.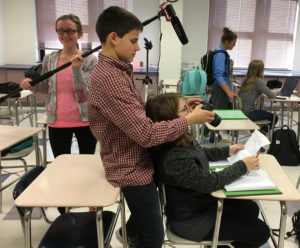 Project 4, is a written exercise called, "From Script Page to Shot List." Students must analyze scenes from Baz Luhrmann's screenplay "Romeo and Juliet," and interpret the words into pictures by creating a camera shot list as if they were hired to direct the movie themselves.
Project 5, is an exercise in script writing and capturing a scene of dialogue called, "Present Day Shakespeare Project." Students will write a script of a scene from everyday life that contains present day dialogue. They will translate the dialogue into Shakespearian language applying their understanding of not only the old-English language but iambic pentameter as it is used by Shakespeare in "Romeo and Juliet."
Project 6, is a digital editing project called, the "Unbiased Editing Project." Students will research the internet to download various video clips providing conflicting views and perspectives on a specific court case. Students must use the footage they have gathered to put together a fair and balanced perspective of both sides of the case and base a personal conclusion on the evidence they have found to decide if they agree or disagree with the outcome of the court case.
Project 7, is the "Commercial Project," where students will produce a commercial advertisement for a product using the persuasion techniques they learn in class. They will pitch their commercial to the mock executives (the teachers/administrators), and share their produced commercial with the class.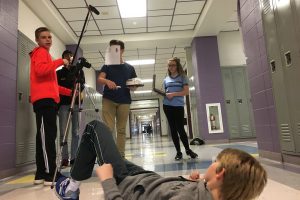 Project 8, is the "Documentary Project," where students will demonstrate their understanding of how to build a narrative in reality based video. They will create a mini-documentary or a news package containing a combination of interview and B-Roll footage that is centered on a specific issue or topic related to the school.
Project 9, is the "Short Film Project," where students will produce 3-5 minute, narrative or documentary short films. The films will be submitted for consideration to the Ballston Spa Short Film Festival to have a chance to be screened for a public audience and a panel of judges.
The MediaWorks program, at Ballston Spa High School, is designed with the intent to build upon the skills the students acquire as they progress throughout the year. The goal is to challenge students to think critically not only about literature and storytelling content, but the techniques that go into the storytelling process and how they themselves can more effectively communicate information textually, visually, and audibly on a deeper level to appeal to an audience.