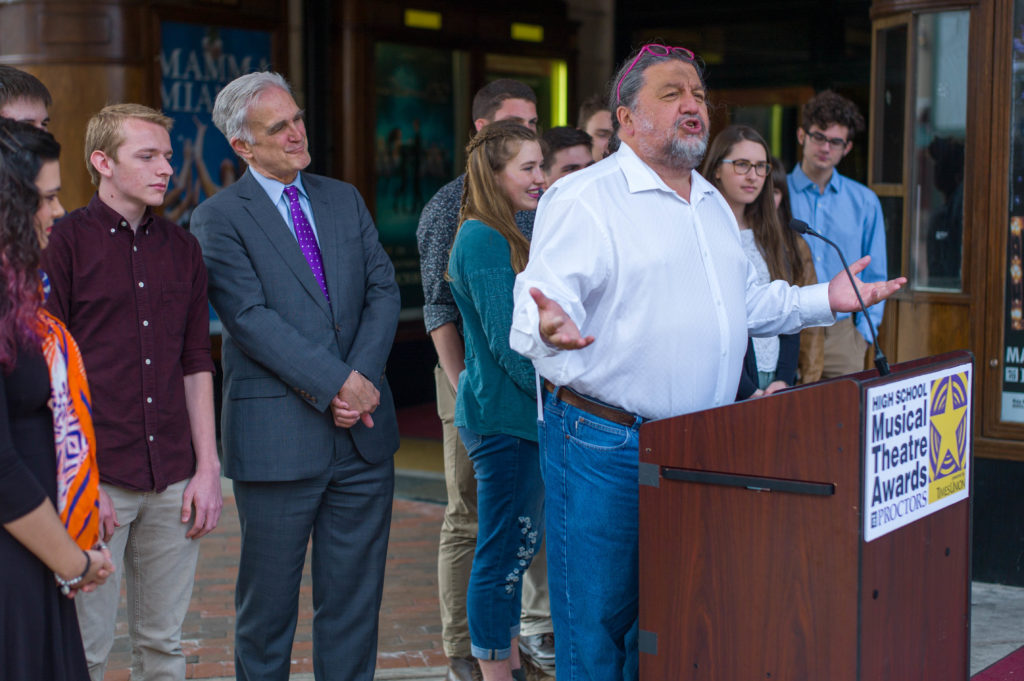 Proctors announces finalists for inaugural awards show
Proctors announced finalists for our first annual High School Musical Theatre Awards on May 1. In attendance, were high school students from Ballston Spa, Niskayuna, Schoharie and Voorheesville. Times Union Editor in Chief, Rex Smith, and Proctors CEO, Philip Morris, were on hand to announce nominees. It was an exciting day under our marquee on State Street as hopeful students from 16 Capital Region area high schools waited to find out who were in the running for the coveted awards; the High School Musical Theatre Awards show will be held 7 p.m. May 20 at Proctors.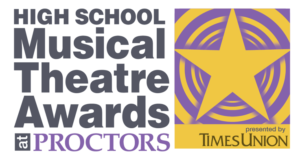 The winner in the Best Actor and Best Actress categories will go on to represent Proctors and the Capital Region at The National High School Musical Theatre Awards (The Jimmy's) competition June 26 in New York City. The duo will receive training from working Broadway professionals and compete with students from around the country for the title of Best National High School Actress and Best National High School Actor.
Did your local high school make the short list? Find out below!
Finalists for the 2017 High School Music Theatre Awards
Best Technical Execution
Cairo-Durham High School – Evita
Niskayuna High School – The Phantom of the Opera
Queensbury High School – Les Misérables
Schalmont High School – West Side Story
Voorheesville High School – Mary Poppins
Best Set Construction
Albany High School – Oliver!
Ballston Spa High School – The Addams Family
Bethlehem Central High School – The Wizard of Oz
Niskayuna High School – The Phantom of the Opera
Voorheesville High School – Mary Poppins
Best Student Orchestra
The Albany Academies – Annie
Albany High School – Oliver!
Bethlehem Central High School – The Wizard of Oz
Niskayuna High School – The Phantom of the Opera
Best Choreography Execution
Albany High School – Oliver!
Ballston Spa High School – The Addams Family
Niskayuna High School – The Phantom of the Opera
Schoharie High School – Singin' in the Rain
Voorheesville High School – Mary Poppins
Best Ensemble/Chorus
Albany High School – Oliver!
Ballston Spa High School – The Addams Family
Hudson Falls High School – Disney's Beauty and the Beast
Niskayuna High School – The Phantom of the Opera
Voorheesville High School – Mary Poppins
Best Supporting Actress
Actress: Laura Haney
Role: Nickie
Show: Sweet Charity
School: Columbia High School-East Greenbush
Actress: Maria Andrew
Role: Marty
Show: Grease
School: Mohonasen High School
Actress: Capri VanDerwerken
Role: Zelda
Show: Singin' in the Rain
School: Schoharie High School
Actress: Nadia Ashman
Role: Miss Andrews
Show: Mary Poppins
School: Voorheesville High School
Actress: Natalie Davey
Role: Celeste
Show: Godspell
School: Warrensburg Jr/Sr High School
Best Supporting Actor
Actor: Max Collura
Role: Rooster Hannigan
Show: Annie
School: The Albany Academies
Actor: Nikhil Bhat
Role: Vittorio Vidal
Show: Sweet Charity
School: Columbia High School-East Greenbush
Actor: Vinnie Canale-Rouse
Role: Lumiere
Show: Disney's Beauty and the Beast
School: Hudson Falls High School
Actor: Cole Carpenter
Role: Bishop of Digne
Show: Les Misérables
School: Queensbury High School
Actor: Joshua Daley
Role: Warner Huntington III
Show: Legally Blonde
School: South Glens Falls High School
Best Actress
Actress: Abby Yettru
Role: Wednesday
Show: The Addams Family
School: Ballston Spa High School
Actress: McKenzie Koch
Role: Scarecrow
Show: The Wizard of Oz
School: Bethlehem Central High School
Actress: Alexandra Burgess
Role: Christine
Show: The Phantom of the Opera
School: Niskayuna High School
Actress: Yun-Jin Huh
Role: Carlotta
Show: The Phantom of the Opera
School: Niskayuna High School
Actress: Jaynie Parmenter
Role: Mary Poppins
Show: Mary Poppins
School: Voorheesville High School
Best Actor
Actor: Raphael Cohen
Role: Fagin
Show: Oliver!
School: Albany High School
Actor: Jack Mastrianni
Role: Tinman
Show: The Wizard of Oz
School: Bethlehem Central High School
Actor: Jad Jacob
Role: Phantom
Show: The Phantom of the Opera
School: Niskayuna High School
Actor: Pat Shannon
Role: Jean Valjean
Show: Les Misérables
School: Queensbury High School
Actor: Carl Treiber
Role: Bert
Show: Mary Poppins
School: Voorheesville High School
Best Musical
Albany High School – Oliver!
Bethlehem Central High School – The Wizard of Oz
Niskayuna High School – The Phantom of the Opera
Queensbury High School – Les Misérables
Voorheesville High School – Mary Poppins